The AFRICANADIANS increased our joy by releasing the beautiful sixth(6th) episode which we have all been waiting for, and this time, they surprised us with two topics intertwined. This epis0de is a continuation of " Fake it till you make it" and our Africanadians Gisters brought spices on the set to give their opinions.
'DO YOU HAVE TO WAIT TILL AFTER MARRIAGE BEFORE YOU HAVE SEX WITH YOUR PARTNER?' and 'WHAT VALUE DO YOU HOLD IN A RELATIONSHIP LEADING TO MARRIAGE? ARRANGE SEX, FINANCE, PHYSICAL APPEARANCE, AND PERSONALITY IN ORDER OF YOUR VALUES IN A RELATIONSHIP.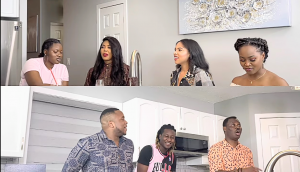 Boma was the first speaker for the day and she made us understand that if she was arranging the values she places in her relationship, she would say, finance first, then sex, before going to physical appearance and finally personality.
"I am not getting married until I am financially set". She had crowned her placed values by indicating this.
Check the video; https://youtu.be/fv2rKqeznGw
Well, the second speaker whose name was not frequently as pronounced as Boma explained how he would arrange her values in a relationship.
"I will examine personality first, then looks because I have to be physically attracted to my partner, and of course sex. I will like to have sex before marriage because I have to test the product before eventually purchasing it, and as for financially capable, she does not have to be as financially capable as I am but she has to be going somewhere for herself".
AY rounded up the session by concluding that because of too much religion, Africans have placed too much value on no sex before marriage which had to be eradicated.
His point though.