In a remarkable display of tradition and cultural significance, Wab Kinew officially became Manitoba's 25th premier. This historical moment was punctuated not only by the colorful inauguration ceremony but also by the fact that Kinew is the first First Nations premier in the history of a Canadian province. Joining him in this momentous occasion was Uzoma Asagwara, who assumed the role of Manitoba's first Black Canadian Deputy Premier. Their swearing-in ceremony marked a significant turning point for the province, signaling a new era under Kinew's leadership.
The ceremony, rich with tradition and symbolism, honored the seven Indigenous nations that call Manitoba their home. Premier Wab Kinew's words reflected the gravity of the trust placed in their hands, stating, "Manitobans have entrusted us with the great honor of leading our province, and I do not take this responsibility lightly." Kinew expressed his pride in the diverse team he had assembled, emphasizing their commitment to addressing crucial issues such as healthcare reform, affordability, and building a shared future for all Manitobans. The premier's commitment to fostering economic growth, inclusivity, and ensuring that Manitobans from all walks of life can join the workforce, join a union, and reach the middle class was evident.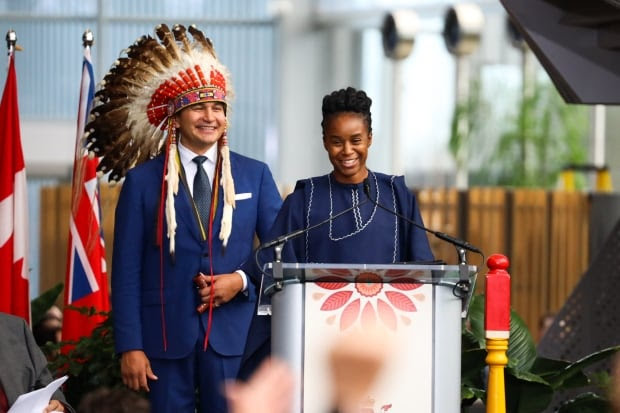 The executive council, known as the cabinet, boasts 15 ministers who represent the province geographically, culturally, and in its entirety as a society, with a focus on ensuring gender parity. The list of cabinet ministers is as follows:
– *Wab Kinew (MLA for Fort Rouge):* Premier, Minister of Intergovernmental Affairs and International Relations, Minister Responsible for Indigenous Reconciliation.
– *Uzoma Asagwara (MLA for Union Station):* Deputy Premier, Minister of Health, Seniors, and Long-Term Care.
– *Ron Kostyshyn (MLA for Dauphin):* Minister of Agriculture.
– *Matt Wiebe (MLA for Concordia):* Minister of Justice and Attorney General, Keeper of the Great Seal of the Province of Manitoba, Minister Responsible for the Manitoba Public Insurance Corporation.
– *Nahanni Fontaine (MLA for St. Johns):* Minister of Families, Minister Responsible for Accessibility, Minister Responsible for Gender Equity.
– *Bernadette Smith (MLA for Point Douglas):* Minister of Housing, Addictions, and Homelessness, Minister Responsible for Mental Health.
– *Nello Altomare (MLA for Transcona):* Minister of Education and Early Childhood Learning.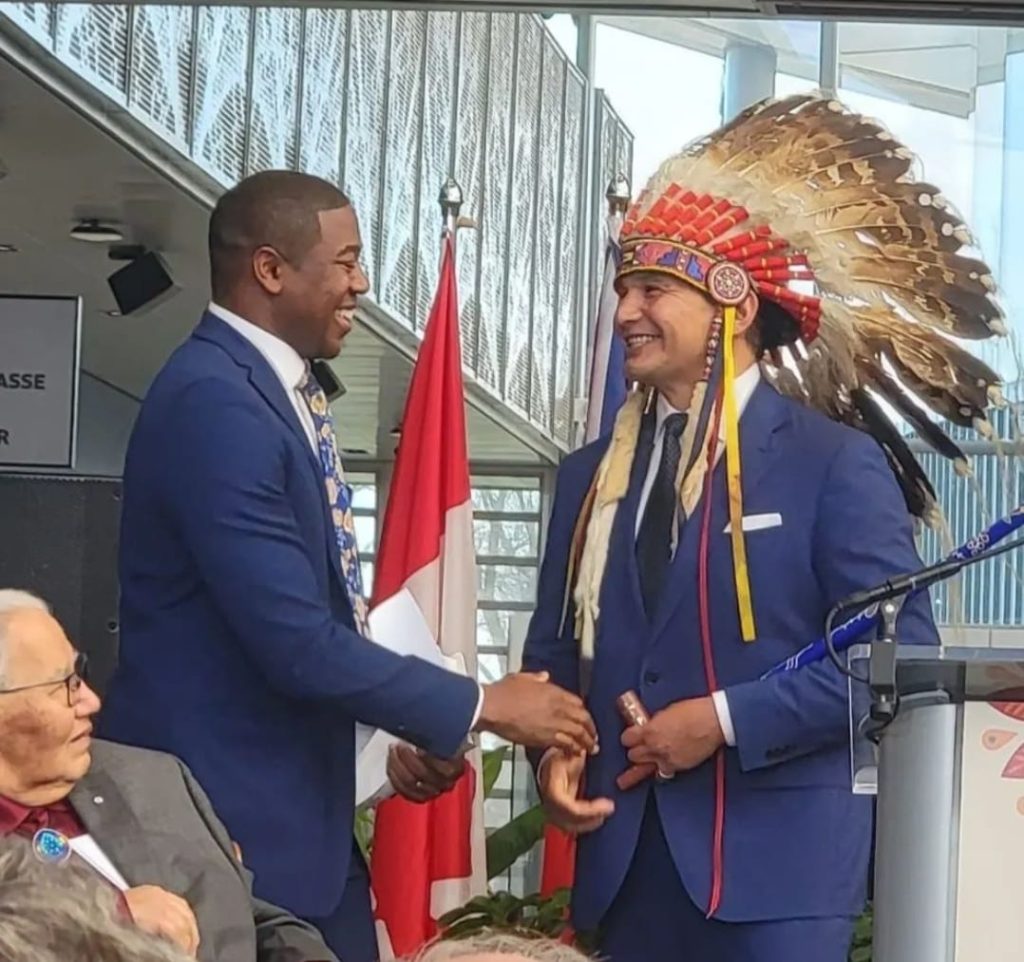 – *Ian Bushie (MLA for Keewatinook):* Minister of Municipal and Northern Relations, Minister of Indigenous Economic Development.
– *Malaya Marcelino (MLA for Notre Dame):* Minister of Labour and Immigration, Minister Responsible for the Workers Compensation Board.
– *Jamie Moses (MLA for St. Vital):* Minister of Economic Development, Investment, Trade, and Natural Resources.
– *Lisa Naylor (MLA for Wolseley):* Minister of Transportation and Infrastructure, Minister of Consumer Protection and Government Services.
– *Adrien Sala (MLA for St. James):* Minister of Finance, Minister Responsible for the Public Utilities Board, Minister Responsible for Manitoba Hydro, Minister Responsible for the Manitoba Public Service.
– *Renée Cable (MLA for Southdale):* Minister of Advanced Education and Training.
– *Tracy Schmidt (MLA for Rossmere):* Minister of Environment and Climate Change, Minister Responsible for Efficiency Manitoba.
– *Glen Simard (MLA for Brandon East):* Minister of Sport, Culture, Heritage, and Tourism, Minister Responsible for Francophone Affairs, Minister Responsible for the Manitoba Liquor and Lotteries Corporation.
A remarkable aspect of this cabinet is Premier Kinew's dual role as Minister of Indigenous Reconciliation, signaling a profound shift in how Indigenous nations in Manitoba will be treated. They will be regarded as leaders of governments, mirroring the province's relationships with federal and municipal counterparts.
Uzoma Asagwara's appointment as Deputy Premier and Minister of Health holds a special place in Manitoba's history as the first Black and non-binary person to assume such a role. This is a significant milestone for the province, as Kinew reaffirmed their government's commitment to making healthcare a top priority.
Bernadette Smith and Nahanni Fontaine also made history by becoming the first First Nations women to be appointed to Manitoba's cabinet. Smith's portfolio will address addiction and chronic homelessness with a holistic approach, aiming to consolidate services and collaborate with other levels of government to improve access to affordable housing. This initiative is pivotal in fulfilling the government's promise to eliminate chronic homelessness within eight years.
Premier Kinew expressed optimism in the cabinet's readiness to tackle the challenges ahead and their commitment to the issues that matter most to Manitobans. He emphasized the value of the diverse perspectives they bring to the table, truly representing the province's rich tapestry.
With Premier Wab Kinew at the helm and a cabinet that reflects the cultural and geographical diversity of Manitoba, the province has indeed entered a new era, with a focus on inclusivity, social justice, and progress. This momentous occasion highlights the province's commitment to embracing diversity and addressing the pressing issues that Manitobans face.
Photo Disclaimer:
The images used in this article have been sourced from various trusted sources, including the Canadian Broadcasting Corporation (CBC) and several other reliable, though unidentified, contributors. We extend our gratitude to CBC for their contribution and apologize for not being able to credit all unnamed sources. These images have been utilized for illustrative purposes in the spirit of informative journalism. We respect and appreciate the work of these photographers and sources, even if their names remain undisclosed.