For the records, it is very obvious from our screens that AY added weight in this episode.
I could barely even recognise him
All thanks to the smell of Christmas. (I assume).
Well another gister has been added to the gist with the AFRICANAD group and she introduced herself as Adesuwa.
The new gister, Adesuwa has a white skin and she is a Nigerian?
Interesting.
I am not going to make you forget what gist they would be sharing with us today.
Today's gist is just simply titled, 'Traditional medical treatment'.
AY opened the floor by introducing everyone again to us even if we already know some of their names. "I actually grew up in an African background, Yoruba to be precise and I was so used to taking 'Agbo' while growing up. Especially when they boil it to cure all disease in the body and how my parents will use it to bath me when I was a baby. What about you Zakazulu? In Uganda, do you use traditional herbs?".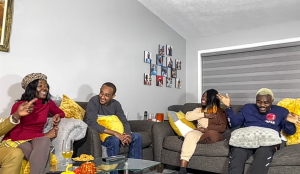 "Why not? We have all the traditional herbs that will even bring you good luck and husband. We don't just have herbs for health but also the spiritual herbs". Zakazulu responded to AY.
"I have never taken traditional herbs since I was born". Philemon answered honestly.
"Well, just like Zakazulu said, in Uganda, we make real use of traditional herbs, not just for health but even spiritual purposes". Myra attested.
"As for me, while growing up I took more of 'Agbo' than orthodox medicines because 'Agbo' didn't leave this permanent bitter taste in my mouth. If my mum gives me Orthodox medicines those days, I will hide it under the bed and instead take 'Agbo' where i know I can lick tom tom sweet and the taste goes". Deji explained.
"So, do we think that the world should approve traditional herbs over orthodox medicines?". AY asked again.
"I feel like there should be some sort of testing before it can be approved. Let the world give us a huge percent of guarantee that herbs have been tested and proven to be trusted". Adesuwa suggested.
Watch our previous episode on "fake it till you make it. Yes or No?."