In a world that often emphasizes differences, Africanad Inc. is at the forefront of advocating for unity, cultural exchange, and progressive policy reform. Our recent interaction with the eminent Mayor of Winnipeg, Scott Gillingham, and Acting Deputy Mayor Markus Chambers was an extraordinary moment in our pursuit of meaningful change.
Our rendezvous took place at the impressive Council Building within Winnipeg City Hall, Canada, and was a powerful testament to the significance of global cooperation and dialogue.
The heart of our conversation with Acting Deputy Mayor Markus Chambers revolved around an issue of profound importance: the rigid visa policies that have impeded the aspirations of Nigerians, especially legitimate entertainers, seeking to enter North America. We expressed our concerns regarding the far-reaching effects of visa refusals, a troubling issue that has unjustly stigmatized artists and event promoters, wrongly associating their intentions with fraudulent activities.
A particularly poignant consequence of these stringent visa policies occurs when artists fail to secure visas even after event promoters have made extensive public announcements about their participation, featuring them prominently on billboards and other promotional materials. This not only tarnishes the reputations of the artists and promoters but also shatters the confidence of audiences, who hesitate to purchase tickets without the assurance of seeing their favorite performers. The detrimental financial impact of these restrictions also affects event promoters, artists, and the government, a reality that calls for urgent reform.
In my role as an Eminent Global Diplomat for Peace Advocate Ambassador, I passionately advocate for a comprehensive policy review, not just in Canada but in other nations across Europe, America, and Asia. The core of this advocacy is to streamline visa procedures, ensuring that Nigerians and entertainers with genuine business intentions can access visas more readily. This streamlined approach not only fosters cross-cultural exchanges but also stimulates economic growth both within these countries and on a global scale.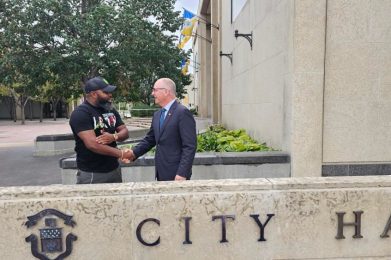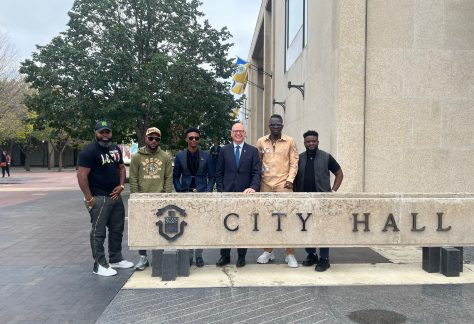 Our concerns did not fall on deaf ears. Ag Deputy Mayor Markus Chambers displayed a sincere willingness to engage in dialogue and seek potential solutions. It was an inspiring moment, representing the first steps towards change. His generous offer to lead us on an insightful tour of the Council Building provided us with a deep understanding of Winnipeg's civic administration, an experience we hold in high regard.
Later that same evening, Ag Deputy Mayor Markus Chambers graced our "More Than a Legend Tour" event, further emphasizing the power of cooperation and cultural understanding. His presence added depth and significance to the occasion, a tangible representation of our shared commitment to fostering a more inclusive and harmonious world.
We express our deep appreciation to Ag Deputy Mayor Markus Chambers for generously dedicating his valuable time to this pivotal discourse. Our gratitude also extends to the organizers of the "More Than a Legend" tour in Canada, notably Prince George Entertainment and also Africanad Inc. , whose unwavering commitment to bridging cultural divides is commendable.
In conclusion, we acknowledge and applaud our the immense contribution of super promoter – Prince George Entertainment and Africanad's CEO and Winnipeg based Promoter -Ayodele Odeyemi who led the celebrities on this important historical meeting, led Amb. Francis Igoda – I.go.die, Daniel Benneth – Acapella, Jephthah Powoto – Akpororo and Junglist Oritsefemi – Oritsefemi, and also appreciate their relentless efforts in advocating for positive change and for amplifying the voices of those who seek to make Africa a more beautiful and prosperous continent.
As Ambassadors of Change, we recognize that each of us plays a pivotal role in shaping the future of our beloved Africa. Together, we can continue to champion cross-cultural understanding and policy reform, with unwavering commitment and enthusiasm, as we work to create a more vibrant and harmonious world.